Damo
18/03/2003 9:32:36 a.m.

Surely this makes all the hard work this season worth it huh? ;-)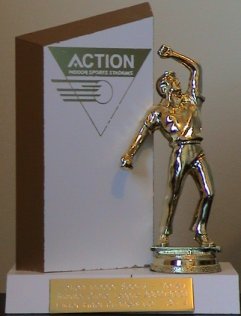 ---
Maverick
20/03/2003 6:03:00 p.m.

Well, we were straight into the final – and up against Cory's for whom we had a record of 1-2 (won one, lost two).

And into field first we did.

Well, team – not too many chances, but we probably took 70% of them. Again we tried something different (bowling Damon twice in the last partnership).

OMG's first game back from a long layoff – but a good couple of wickets, and was getting some good tweak at times once he got into the rhythm.

Chan's first over – well the umpire summed it up with "one wide to come" – only for him to get a wicket!

I think we can look at the stats and know this – no bowled. Which means they were keeping everything out or the ones that were on the wickets they got away.

But we got a fair few runouts, and a couple of catches which again says volumes for their batting – not our fielding or bowling.

The batting – well. We needed around 1 a ball from the start – possible, but a couple of wickets and we would be in trouble.

I think it speaks volumes about their bowling that nearly half our score was contributed in extras – a scary stat!!!

Damo and Greg – a great valiant rear guard action toward the end – but just not enough.

Well guys – I don't know whether to be upset or relieved about the last game of the Season. It has been tough at times, and there hasn't been too much consistency in the team selection. But we are getting a good number of possible ring-ins which has always got to be good.

And most importantly, we got consistent on the win/loss ratio toward the end of the season – we were winning more than we were losing!

So chins up, and on to bigger and better trophies next season!!!
---